The National Labor Relations Board ("Board" or "NLRB") on Wednesday, May 13, 2020, overruled decades of convoluted Board precedent regarding "dual-marked ballots" in union representation elections – establishing a new bright line test.  A "dual-marked ballot," to put it simply, is a ballot that has markings in or around both the "YES" and "NO" box, thus, making it difficult, if not impossible, to tell whether the employee who cast the ballot actually intended to vote for or against union representation. Indeed, a dual-marked ballot might also mean that the employee who completed the ballot actually did not want to take a position either way.   The treatment of such a single dual-marked ballot can have dramatic consequences in a close election, as was the case in Providence Health & Services.
Facts.
In Providence Health & Services, Service Employees International Union Local 49 ("Union" or "SEIU") was seeking to organize and represent a group of employees at Providence Health & Services—Oregon ("Employer").  In an NLRB representation election, a union must receive a majority of the valid ballots cast to be certified.  If the vote is a tie, the union loses and will not be certified as the bargaining representative.
An election took place in December 2018, which after the Regional Director's decision regarding two controversial ballots, resulted in 384 votes for the Union, and 383 votes against union representation.  However, the Employer appealed to the Board and challenged a single ballot which was dual-marked and which the Employer argued should therefore not have been counted: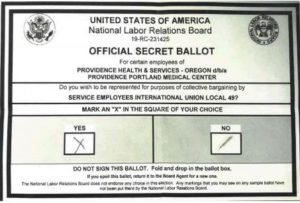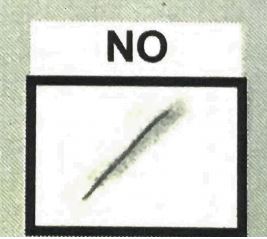 The Regional Director, citing to previous Board precedent, and in line with an administrative law judge's recommendation, had concluded that the "smudging" along the diagonal line in the "NO" box was what he concluded to be an obvious attempt by the employee to erase the marking.  Accordingly, the Regional Director held that it was the clear intent of the employee to vote "YES."    Consequently, for a moment in time, it looked as though the Union had won the election by a single vote.
The Regional Director's ruling, like the ALJ's recommendations, relied on a line of cases finding "a dual-marked ballot is void unless the voter's intent can 'be ascertained from other markings on the ballot (such as an attempt to erase or obliterate one mark),'" to find the smudging was intent.  Quoting TCI West, Inc., 322 NLRB 928, 928 (1997), enf. denied 145 F. 3d 1113 (9th Cir. 1998).
The Board's New Bright-Line Rule.
However, in reviewing this case, the Board reviewed and overruled decades of complex, convoluted, and contradictory precedent on how to interpret a dual-marked ballot.  Finding "it difficult to discern any consistent approach," the Board concluded that any "attempts to determine voter intent based on additional markings, attempted erasures, smudges, or other ostensible 'corrections' are impermissibly subjective."  The Board reasoned that they themselves have no special expertise in judging such markings and thus, ultimately, each decision regarding a dual-marked ballot resorts in speculation.  Furthermore, any speculation by the Board is inconsistent with other established Board precedent directing the Board to avoid speculation regarding any such markings when deciding the validity of a ballot.
Accordingly, the Board concluded that "the Board and our stakeholders will best be served by the establishment of an objective, bright-line rule pertaining to dual-marked ballots."  The new rule throws out decades of contradictory and speculative precedent in favor of this simple bright-line rule:
[W]here a ballot includes markings in more than one square or box, it is void. 
This new bright-line rule will be applied retroactively.
Consequently, in the case at issue, the Board voided the   ballot at issue as it included markings in more than one square, resulting in 383 votes for the union and 383 votes against representation.  As a union is required to receive a majority of the votes to be certified and therefore the union did not receive the necessary majority.  Under the Board's one year election bar doctrine, that means that the union cannot file for another election in that unit for at least one year.
Change in Official Election Ballots.
In addition to the new bright-line rule, the Board decided to modify the official election ballot language in order to attempt to reduce or eliminate instances of dual-marked ballots.  Official election ballots currently state, among other instructions, "If you spoil this ballot, return it to the Board agent for a new one."  The Board noted that the term "spoil," like dual-marked ballots themselves, was not clear and could lead to confusion.
This instruction will now be replaced with a much more detailed instruction regarding the voiding of ballots:
"If you make markings inside, or anywhere around, more than one square, return your ballot to the Board Agent and ask for a new ballot.  If you submit a ballot with markings inside, or anywhere around, more than one square, your ballot will not be counted."
Employers should take care to speak with their employees about this instruction to make sure they do not simply ignore this important language.
While the bright-line rule itself is retroactive, the Board made it clear that the change in ballot forms is only applicable "prospectively," and that the change will be implemented as soon as possible.  Notably, it is not grounds for filing an objection if an election is held with ballots containing the old language.  Accordingly, it is even more important for employers to communicate with employees this new bright-line rule, as it may not be reflected on their ballots as of yet.
Impact.
Importantly, the new bright-line rule concerning dual-marked ballots applies retroactively, meaning that not only will it impact future elections but also elections and challenges to elections that are currently ongoing.
This new rule comes at a critical time as the Board's Regional Offices resume conducting elections, albeit mainly by mail election ballots, previously put on hold due to the COVID-19 pandemic.  As stated by the Board, election ballots may not yet reflect this newly adopted language so employers should take care to communicate the bright-line rule to employees before they receive their ballots.  It is important that employers communicate to their employees what to do if they accidently check the wrong box, get a smudge on their ballot, or simply spill a drop of their morning coffee on their ballot: get a new ballot from the region conducting the election.
It may be tempting for employers to believe this bright-line rule will not have a substantial impact as only a small amount of ballots will be impacted by this new precedent.  However, the Employer and the Union in Providence Health Services would strongly disagree.  Employers seeking to more fully understand this bright-line rule and the impact it can have on elections, particularly during this unprecedented time in our Nation, should reach out to counsel for further guidance.